[mks_dropcap style="letter" size="48″ bg_color="#ffffff" txt_color="#000000″]T[/mks_dropcap]his photocolumn was created to capture the realities of Medium magazine members being working from the confines of their homes. Members were asked to take photographs of their desks or for the use of a better term, work stations. The organisation and appearance of one's designated workspace can say a lot about the person or the person's situation.
As an Amsterdam-based publication, Medium Magazine's staff consists of students. Being a student and being in Amsterdam combined leads to a particular challenge, housing. Most international students are welcomed to the house searching scene with the long waiting lines on official student housing platforms such as Studentenwoningweb or Room.nl. Therefore, many move on to pay from reasonable to unreasonable amounts.
Besides the hardships of finding decent accommodation, it is time to add COVID-19 into the concoction. Students amongst the general population, are now confined to their houses. This can become challenging for many, where the housing situation is not ideal. Many students have flocked from their adopted homes to their primary ones. The temporary migration is to help lighten the stresses of living alone or away from home. This, too, applies to Medium. Many Medium writers and editors have gone back while maintaining their efforts to publish content consistently. While maintaining the consistent effort to post, there is a critical challenge that many such as myself face. Space.
Without access to the library and study areas, people may not have the ability to work from home efficiently. It leaves many to improvise and adapt in a unique world event situation. Throughout this photocolumn, you will see how many students make do with their situation. Also, highlighting how essential libraries are for many students as their homes may not be ideal for studying. On the other side of the spectrum, the desks found in your homes may be more spacious than the ones from the room in Amsterdam. Working at home may also be very distracting, yet it might be accommodating to a few. Living with roommates, siblings or even by yourself brings various challenges.
The desks that are pictured may not only be a workstation. It can be the dining table, the study table and anything else that a table is used for. Let this also be a reminder of how integral laptops and computers have become for university students.
Rita Alves, Writer.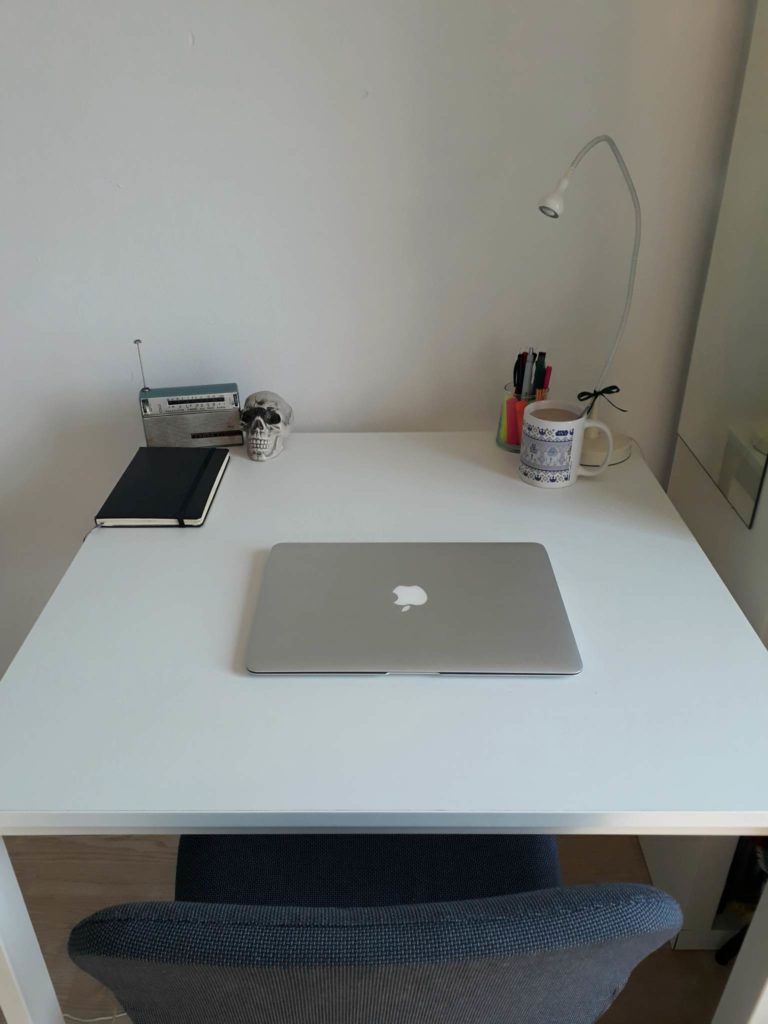 Cecilia Begal, Writer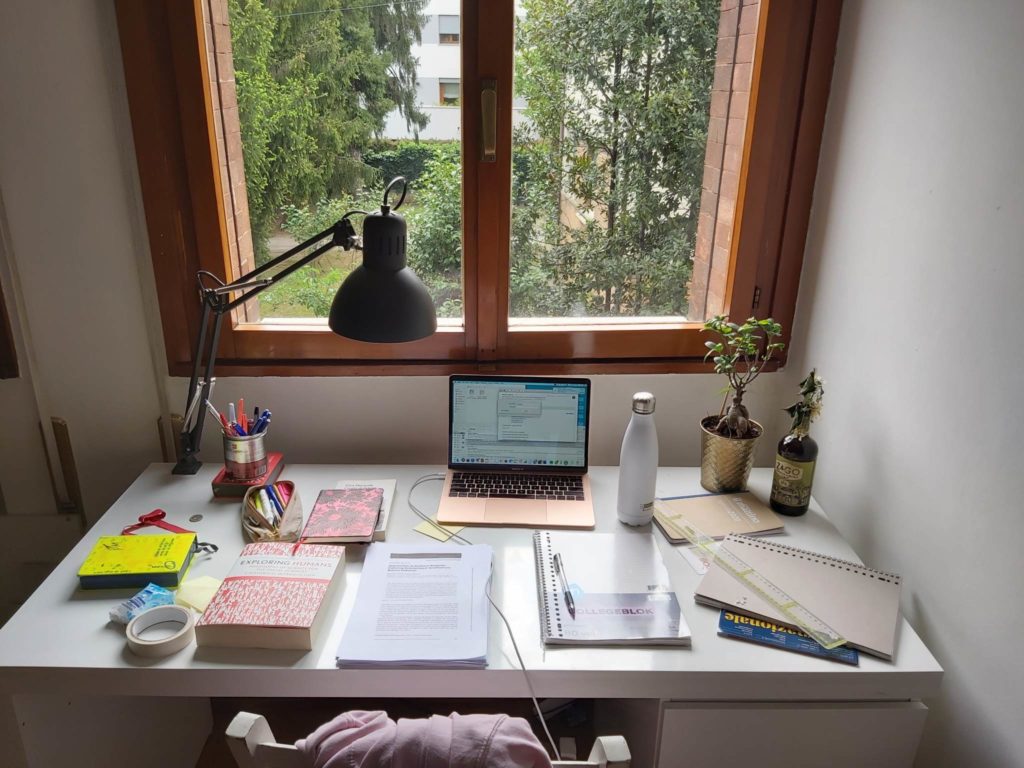 Margarete Schweinitz, the 1st Managing Editor of Medium.
Melike Alpay, Editor.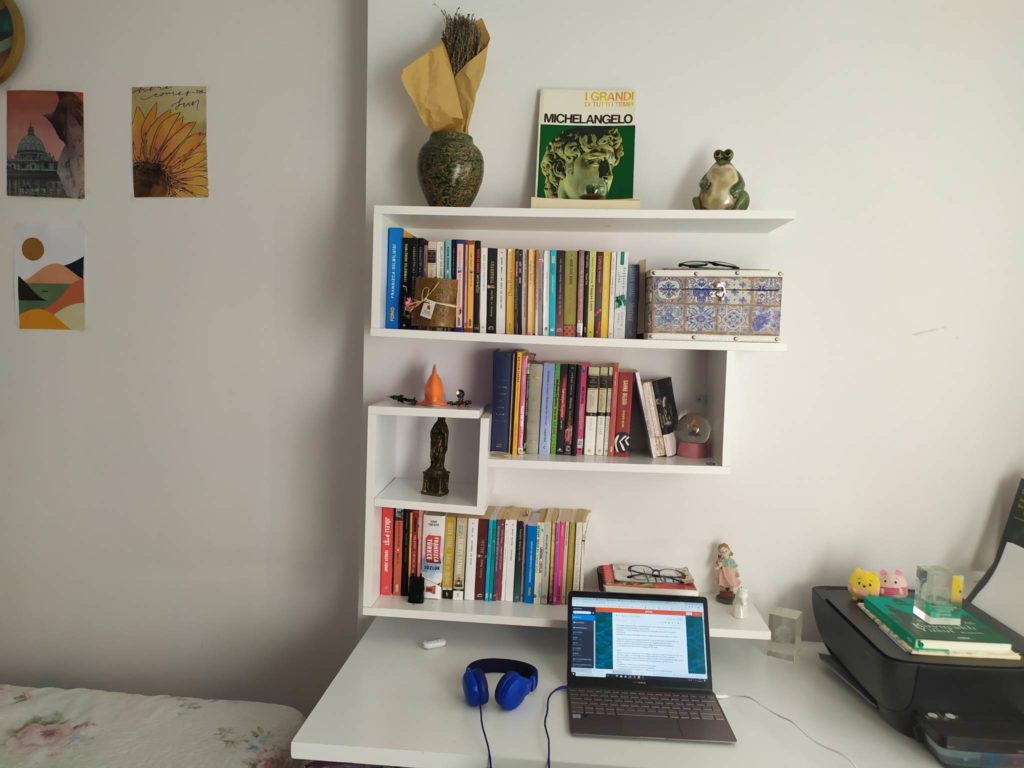 Dalis Robinson, Editor in Chief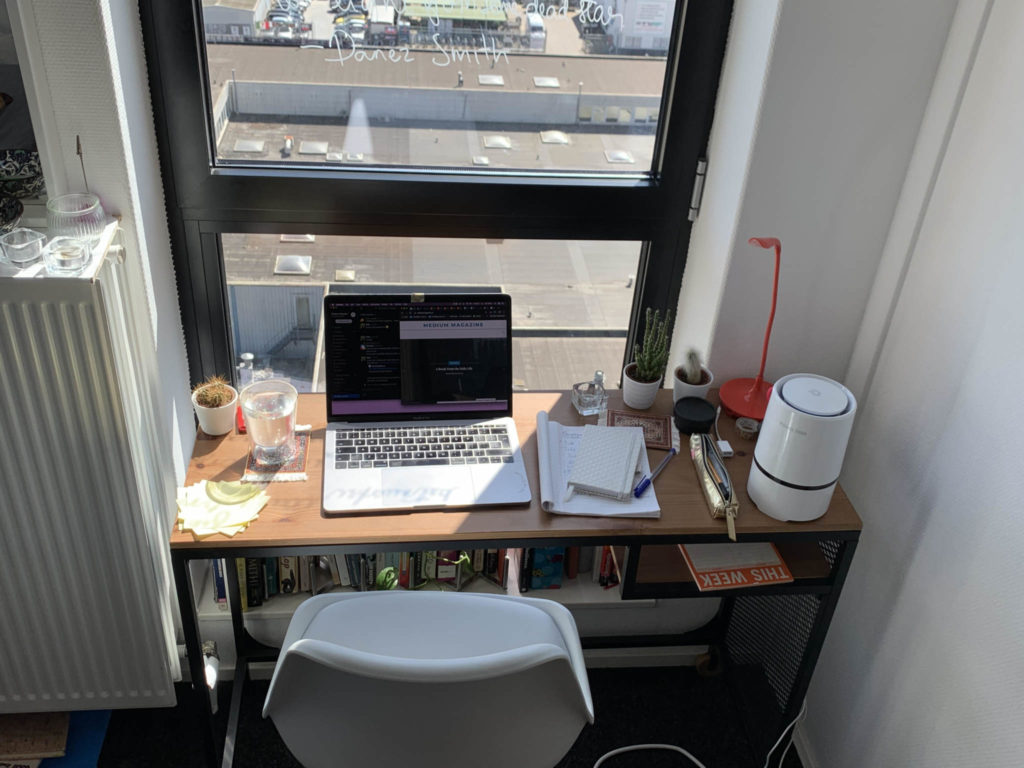 Eva de Boer, Editor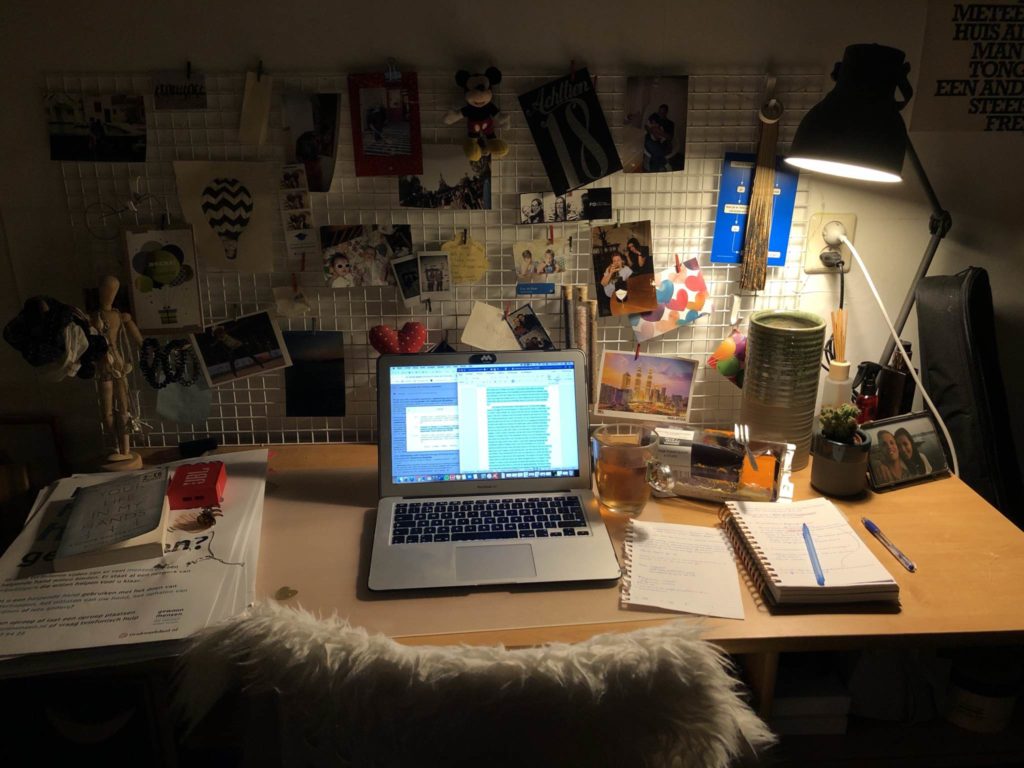 Jade van Laar, Chief Online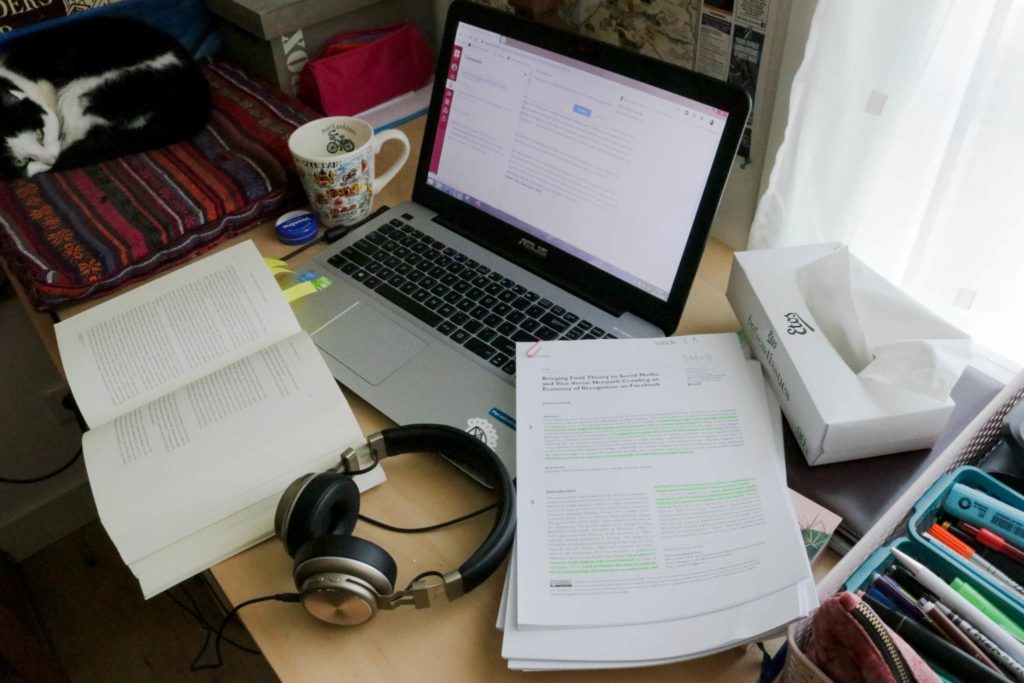 A photo of a desk being used for 'Medium Podcast #11: Breaking Down False Predictions'. Submitted by Adel Al Khozaae, Chief Audiovisual.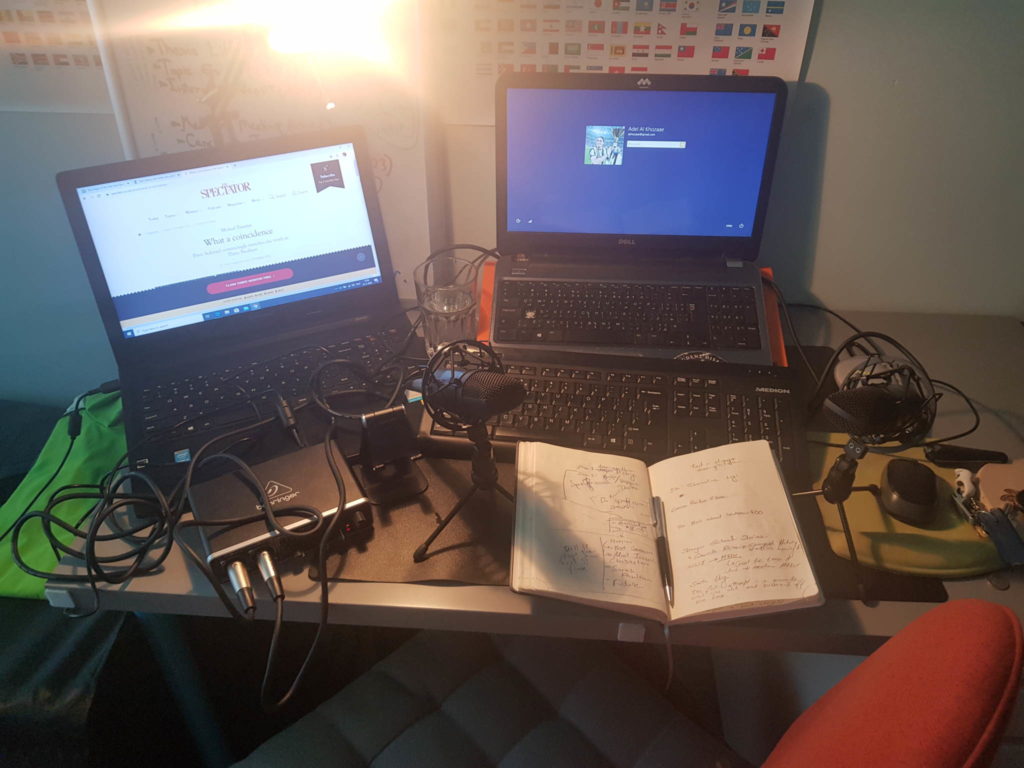 Courtesy of Adel's Roomate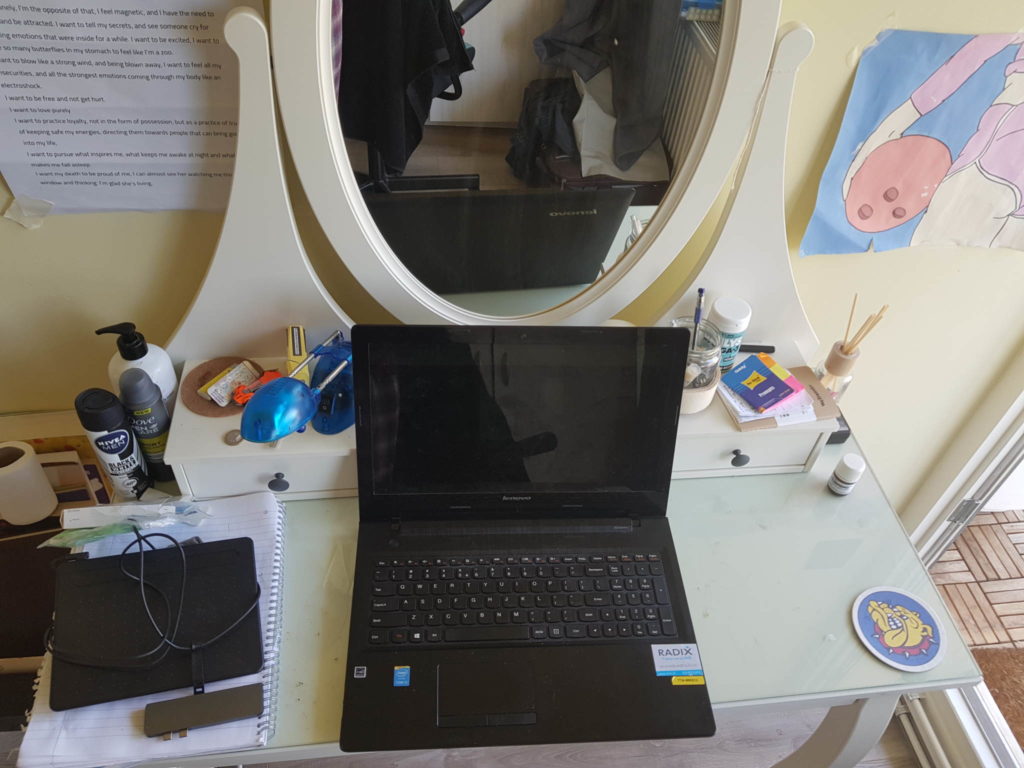 Cover Photo by Robert Bye on Unsplash