'Soms is het beter om te zwijgen'. Het zijn de woorden van misschien wel 's werelds beste voetballer, Cristiano Ronaldo, geboren op het Portugese eiland Madeira. Zijn verhaal is een jongensboek pur sang. Van de goot naar superster bij Real Madrid, maar nu wil hij weg. Waarom? De Spaanse fiscus. Ronaldo in paniek? Nee hoor, maar de PR-afdeling van Real Madrid wel
Het jongensboek
Voor wie het nog niet uit het hoofd kan oplepelen: Cristiano Ronaldo dos Santos Aveiro groeide op als jongste in een gezin van zes. Het gezin van kokkin Maria en tuinman José had het niet breed en Ronaldo, genoemd naar Ronald Reagan omdat zijn vader fan was van de acteur, was al gauw het ondergeschoven kindje. Het voetbaltalent van Cristiano viel wel al snel op en op zijn twaalfde kwam hij terecht in de jeugdopleiding van Nacional.
Twee jaar later mocht hij gaan voetballen bij een top 3-ploeg in Portugal, Sporting Clube de Portugal. Hij verliet zijn geboorte-eiland Madeira en moest daarmee op 14 jarige leeftijd huis en haard achterlaten. Tot overmaat van ramp werd er een hartritmestoornis ontdekt op zijn vijftiende. Ronaldo werd geopereerd aan zijn hart, maar waar menigeen nooit meer zou mogen voetballen, herstelde hij wonderbaarlijk snel. Na één week stond hij alweer op het veld. Met nog geen dertig wedstrijden op zak voor Sporting, speelde zijn ploeg in voorbereiding op het seizoen 2003-2004 tegen Manchester United. Cristiano draaide zijn tegenstanders horendol. Diezelfde tegenstanders wisten ook niet hoe snel ze naar de trainer van de Engelsen, Sir Alex Ferguson, moesten rennen om te zeggen dat Ronaldo zo snel mogelijk gekocht moest worden. En zo geschiedde.
Zijn tegenstanders renden naar Sir Alex Ferguson, Ronaldo moest gekocht worden
Naast het trainen bij zijn club, stak Ronaldo het merendeel van zijn tijd in het sterker maken van zijn lichaam. Trainen, trainen, trainen. Het leverde hem een transfer naar Real Madrid op en hij mocht zich vier jaar lang de duurste speler ooit noemen, met een transferbedrag van 94 miljoen(!) euro. Over from zero to hero gesproken.
CR7
Gelukkig letten de PR-medewerkers bij Real Madrid ook goed op, want dit verhaal is geld waard. En veel ook. In 2017 overschreed Ronaldo de magische marketingwaardegrens van 1 miljard dollar. Dit kwam mede door het nieuwe contract met sportkledinggigant Nike, maar ook door zijn verhaal, levensstijl en activiteit op social media. Een kleine inzage van wat Ronaldo voor een merk of club kan betekenen: De best bekeken post van Ronaldo leverde Nike maarliefst 5,4 miljoen euro aan mediawaarde op.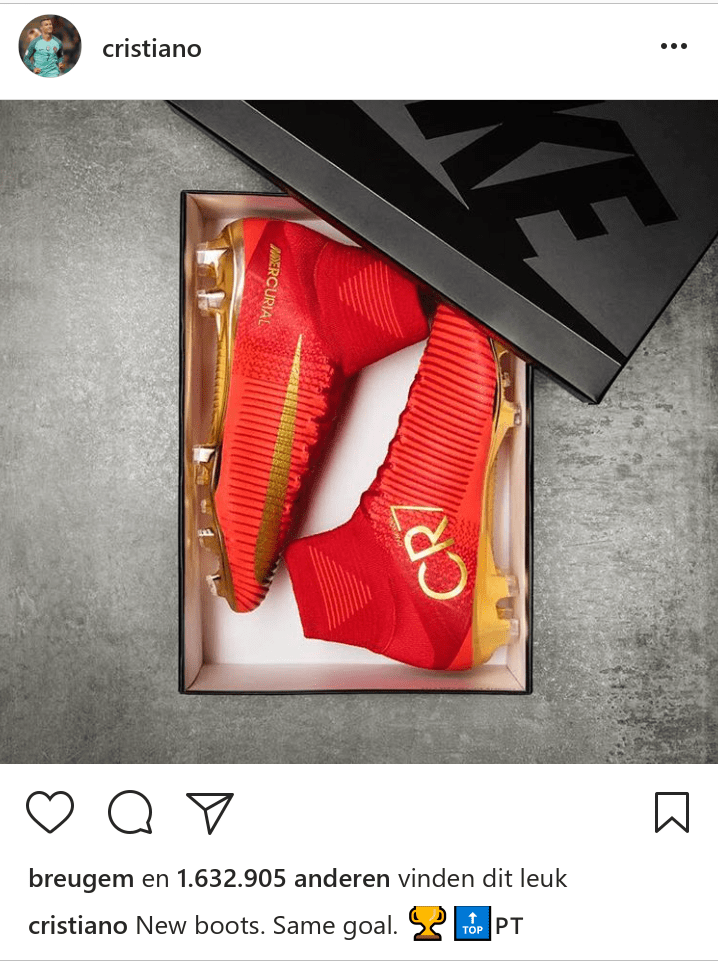 Ronaldo is, marketingtechnisch gezien, niet afhankelijk van zijn prestaties op het veld, maar  afhankelijk van zijn leefstijl. Zijn zelfverzonnen tag, CR7, werd zelfs overgenomen door Nike voor een toen nieuw op te zetten voetbalschoenenlijn met als boegbeeld Ronaldo. De schoenen vonden gretig aftrek bij jeugdige voetballertjes. Waarom ze met hem weglopen? Succes.
Een kijkje op zijn Instagramaccount toont al snel een extravagante levensstijl, een gevulde prijzenkast en 104 miljoen volgers. Deze levensstijl, gekoppeld aan succes, houdt hem relevant op Instagram. Ieder jongetje van een jaar of zeven dat een bal net drie keer hoog kan houden, wil Ronaldo zijn. En ook zijn werkgever, Real Madrid, profiteert hiervan mee.
Paniek bij de PR
Ronaldo is de sterspeler binnen Real Madrid. De overige tien op het veld zijn ook goed, denk aan Gareth Bale en Sergio Ramos, maar niet internationaal zo unaniem erkend als supersterren. Het aantrekken van Ronaldo leverde in 2009 een enorme stijging in de verkoop van Real Madrid shirts op. Van de pakweg 2,3 miljoen verkochte Real Madrid shirts van het afgelopen seizoen, heeft naar schatting de helft het nummer 7 met de naam Ronaldo daarboven op de achterkant staan. Zo'n shirtje kost al gauw 90 euro, dus reken maar dat Ronaldo zichzelf heeft terugverdiend.
De club in de markt zetten is voor de PR-afdeling van Real Madrid niet moeilijk. Zeg je Ronaldo, dan zeg je Real Madrid en vice versa. Een vertrek betekent veel werk aan de winkel voor de PR-lieden, er moet immers een nieuwe held opstaan die het merk vertegenwoordigt en veel geld in het laatje brengt.  De Telegraaf rekende al voor dat een overstap van CR7 de club 400 miljoen euro zou opleveren: 200 miljoen voor de transfer en 200 miljoen aan niet betaald salaris. Maar of die 400 miljoen opweegt tegen de misgelopen marketing en mediawaarde, zal alleen de nieuwe club van de Portugese superster kunnen vertellen.
Cover: DSanchez17