Eindelijk was het zover: Netflix lanceerde op 30 mei het nieuwe seizoen van House of Cards. Het is inmiddels al het vijfde seizoen van de spannende serie over de Amerikaanse politiek en bijbehorende machtsspelletjes. In aanloop naar de release was er op social media geen ontkomen aan het vergeten van de datum. Op Facebook en Instagram werd de spanning opgebouwd, doordat er korte clips verschenen van het nieuwe seizoen. Als trouwe Frank Underwood fan ben ik meteen op 30 mei gaan bingewatchen en inmiddels heb ik het hele seizoen al gezien.
Social media
Niet alleen in aanloop, maar ook nu nog wordt er regelmatig gepost op de sociale media kanalen van House of Cards. Zo is het Instagram account volledig ingericht op korte clips, waarin veelal quotes van Frank Underwood te zien zijn. Naast berichten op de Facebookpagina, wordt Facebook ook ingezet om live te gaan. Vlak voor de lancering van het vijfde seizoen was Frank Underwood samen met Doug Stamper bij het Witte Huis in Washington D.C., om te laten zien wie de president is. Het Twitter account wordt ingezet om korte tweets te plaatsen, waarvan de inhoud zomaar van Frank Underwood afkomstig zou kunnen zijn. De tweets zijn volledig in Underwood-stijl: meedogenloos en kort maar krachtig.
"They respect you more when you show strength. Or show up."
Fictie en werkelijkheid
De verhaallijn van House of Cards lijkt soms – tot het enge aan toe – op de werkelijkheid. Zo grapte Robin Wright, die Claire Underwood speelt, dat Donald Trump ideeën heeft gestolen, die  perfect waren voor het zesde seizoen.
Niet alleen de verhaallijn, maar ook de social media kanalen van House of Cards lijken zich te vermengen met de werkelijkheid. Op 31 mei ging het Twitter account in op een gebeurtenis in het Verenigd Koninkrijk. De Britse premier Theresa May kwam niet opdagen bij het laatste debat voordat de Britten naar de stembus zouden gaan. Er ontstond veel commotie op social media en Frank Underwood kon het niet laten om May van advies te voorzien. Het House of Cards account richtte zich direct tot May: "They respect you more when you show strength. Or show up."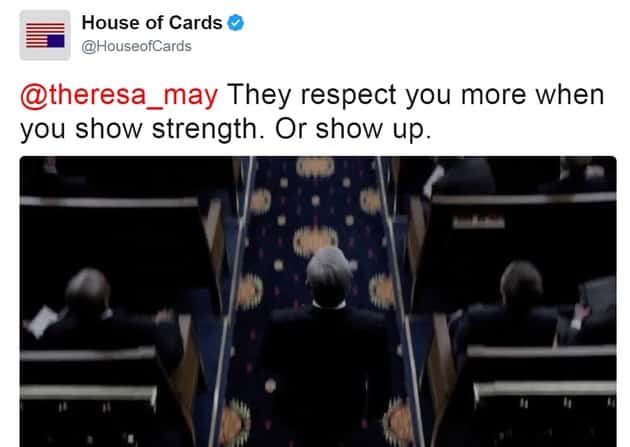 Niet alleen de inhoud van de tweet zou zomaar van Frank Underwood kunnen komen, maar ook de korte clip refereert naar een gebeurtenis in House of Cards. Frank wordt in eerste instantie niet bij een debat verwacht, maar komt toch opdagen om orde op zaken te stellen. Dit is waar fictie de werkelijkheid ontmoet – of andersom. Een fictief karakter geeft, op basis van eigen ervaringen, via Twitter advies aan een echte politica. Een fictieve serie raakt verweven met de werkelijkheid. Uiteraard ontlokte de tweet veel reacties en dat is een fantastische manier om een net gelanceerd seizoen van een serie te promoten.
Naast de krachtige social media inzet, is ook de timing van de lancering perfect. Mede hierdoor was het mogelijk om via social media in te spelen op de actualiteit en daarmee een fictieve serie echt te laten lijken. Ik kan alleen maar zeggen dat Underwoods' campagneteam goed werk heeft verricht.
Cover: Carrie A.