[mks_dropcap style="letter" size="48″ bg_color="#ffffff" txt_color="#000000″]L[/mks_dropcap]inkedIn, wat is dat eigenlijk? Op bijna elke Hogeschool of Universiteit krijg je van docenten te horen dat het verstandig is om een account aan te maken, maar wat heb je er daadwerkelijk aan? Vorige week organiseerde de Universiteit van Amsterdam de UvA Career Day en gaven zij aandacht aan dit sociale medium. Deze dag draaide namelijk om de toekomst van de studenten. Dit is voor sommige studenten nog best wel spannend, want hoe vind je jouw droombaan? LinkedIn kan hierbij helpen!
Ik link je even!
Om 14:45 begon de LinkedIn-workshop. Deze workshop werd gegeven door Femmy Wolthuis. Zij is carrière-adviseur van het UvA Student Career Centre. De zaal zat vol met gemotiveerde studenten. Wolthuis vertelde hoe belangrijk het is om een LinkedIn-account te hebben. Vooral voor je toekomst. LinkedIn is dé plek waar je als toekomstige werknemer kan netwerken met je toekomstige werkgever(s) en collega's.
Onthoud wel; als je gaat netwerken, vraag dan om advies en niet meteen om een baan. Dit werd meerdere keren op de carrièredag genoemd. De voorlopige conclusie: heb je nog geen LinkedIn-account? Maak meteen een account aan!
En nu aan de slag!
Heb je al een LinkedIn-account of ben je zo enthousiast geworden door bovenstaande alinea dat je linea recta een account hebt aangemaakt? Dan volgen hier een paar praktische tips, waardoor je alles uit LinkedIn kunt halen.
Als je iemand wil toevoegen als een connectie, verstuur dan altijd een persoonlijke uitnodiging. In deze persoonlijke uitnodiging kun je aangeven hoe je diegene kent en een persoonlijk uitnodiging creëren. Geef de connectie jouw persoonlijke aandacht. Klik dus NOOIT alleen op de knop 'connectie'. Een andere tip om nieuwe mensen te leren kennen, is om te vragen of jouw – al toegevoegde – connecties jou willen voorstellen aan andere connecties. Op deze manier wordt je netwerk steeds groter.
Gebruik de samenvatting op je profielpagina om jouw ambities en dromen te vertellen. Vertel hoe jij, aan de hand van jouw talenten, denkt dat je de wereld wat beter maakt. Beschrijf in de samenvatting welke richting je op wil met je carrière en welke dingen jou daarbij hebben geholpen. Zet zo specifiek mogelijk neer wat je later wilt worden. Hoe specifieker hoe beter. Hierdoor weten werkgevers wat ze van je kunnen verwachten.
Betrouwbaarheid voor alles
Wees betrouwbaar op LinkedIn. Hoe laat je dat aan je connecties zien? Beoordeel de vaardigheden van je connecties. Op je eigen LinkedIn-pagina krijg je de mogelijkheid om vaardigheden op te schrijven. Iedereen kan dat zien. Daarnaast kunnen andere LinkedIn-gebruikers bevestigen of jij daadwerkelijk deze vaardigheden hebt. Dit heet in LinkedIn 'aanbevelen'. Maak daar gebruik van! Vraag aan je klasgenoten of zij jou willen aanbevelen. Hoe meer aanbevelingen, hoe betrouwbaarder.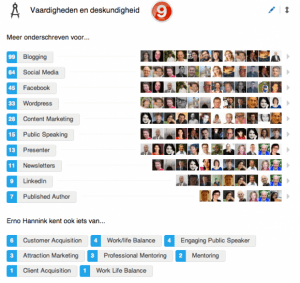 Voor een grotere betrouwbaarheidsfactor moet je laten zien dat je een expert bent. Zet op je profiel neer dat je een diploma op een bepaald vakgebied hebt gehaald. En zeg dan in plaats van: "Ik ben afgestuurd in Communicatiewetenschap", "Ik ben een communicatiespecialist." Gun jezelf die titel, als je jouw diploma hebt gehaald.
LinkedIn kun je vergelijken met een bar: je moet aanwezig zijn, anders zien de mensen je niet
Wees altijd aanwezig
Blijf actief op LinkedIn. Zorg ervoor dat je connecties je blijven zien. Tijdens de workshop werd LinkedIn vergeleken met een bar: je moet aanwezig zijn, anders zien de mensen je niet. Zet bij 'instellingen → privacy' je profiel op zichtbaar. Zo zien mensen dat jij op hun profiel hebt gekeken en maak jij jezelf zichtbaar aan anderen. Dit kan zorgen voor een (nieuwe) connectie, wat gunstig kan zijn in de toekomst.
Een andere activiteit waardoor je actief blijft op LinkedIn is het liken van andermans berichten op je tijdlijn (Facebook-stijl). Andere mensen zien namelijk dat jij dit bericht hebt geliked. Wens mensen ook een fijne verjaardag of zoek een actieve discussiegroep (in jouw vakgebied) op en plaats daar berichten in. Tot slot: deel artikelen, evenementen etc. op je profiel. Zo zien jouw connecties wat jij interessant vindt, want dit wordt zichtbaar op hun tijdlijn.
Eind goed, al goed
Als Medium Magazine (hét tijdschrift voor Communicatiewetenschap) moet er natuurlijk ook nog een kleine verwijzing naar de workshop 'a Career in Communication' worden gemaakt. Tijdens deze workshop kwamen drie ex-studenten Communicatiewetenschap aan het woord. Zij vertelden dat de meeste studenten na 3-4 maanden na het afstuderen een vaste baan vinden. Verder gaven zij advies, zoals: houd contact met je leraren (op LinkedIn), wees vol passie over jouw vakgebied en nodig regelmatig nieuwe contacten uit voor een kopje koffie. Zo bouw je een netwerk op waar je later veel aan hebt. En voor je het weet, heb jij je droombaan gevonden!