Ik kende Muhammad Ali vooral als een bokser. De beste bokser ooit om precies te zijn. Eerlijk gezegd denk ik dat dat voor de meeste mensen geldt. In ieder geval van mijn generatie. Maar Ali was meer dan dat. Hij was een politiek activist en boven alles bekend als een geweldig spreker. Hij was dé inspiratie voor veel Amerikaanse activisten. Maar hoe deed hij dat eigenlijk? Hoe communiceerde de champ?
Van Donald Trump tot Barack Obama en Bernie Sanders. Elke politicus heeft de afgelopen dagen Muhammad Ali geëerd. Dit alleen al bewijst dat hij wist wat hij wilde doen: inspireren. En dat is hem gelukt. In de oval office van Obama liggen bokshandschoenen van de wereldkampioen, daarnaast hangt een foto van Muhammad Ali. In zijn brief ter ere van Ali schreef Obama: "[hij was] niet alleen een net zo goede dichter achter de microfoon als een bokser in de ring, maar hij was ook een man die heeft gevochten voor wat het juiste was. Een man die voor ons heeft gevochten."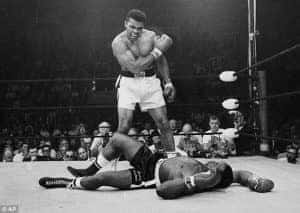 Zijn gevecht buiten de ring
Ali is lang niet altijd zo populair geweest. Toen hij weigerde te vechten in de oorlog in Vietnam, kwam een hele stortvloed van woede over hem heen. Hij mocht niet meer boksen en werd aangeklaagd. In eerste instantie werd hij ook veroordeeld tot een gevangenisstraf. Dat was het begin van een lange strijd voor zijn recht om niet te hoeven vechten.
Maar waarom wilde hij dat niet? Zelf zei hij: "Mijn geweten laat mij niet mijn broeders neerschieten, of andere gekleurde mensen, of hongerige mensen in de modder voor machtig Amerika. Waarom zou ik ze neerschieten? Ze hebben me nooit nigger genoemd. Ze hebben me nooit gelyncht, geen honden op mij losgelaten. Ze hebben mij mijn nationaliteit niet afgenomen, niet mijn moeder verkracht of mijn vader vermoord. Waarom zou ik ze neerschieten? Breng mij maar naar de gevangenis." Deze woorden waren des te controversiëler omdat de Vietnamoorlog destijds nog populair was onder de Amerikaanse bevolking.
Één reden voor het uiteindelijke succes van Muhammad Ali was een bijzonder handige combinatie van doorzettingsvermogen en aanpassingsvermogen. Zelfs toen hij de meest gehate man in heel Amerika was, hield hij vol. Dit zorgde er uiteindelijk voor dat het hoger gerechtshof in Amerika zich tot twee keer aan toe over hem moest uitspreken. Hij hield simpelweg niet op. De laatste van deze twee uitspraken van het hoger gerechtshof was trouwens een volledige vrijspraak van Ali.
Maar zijn doorzettingsvermogen had waarschijnlijk weinig opgeleverd als zijn wereldbeeld ook niet veranderde in de loop van zijn carrière. "Een man die hetzelfde beeld van de wereld heeft op z'n vijftigste als op z'n twintigste, heeft dertig jaar van zijn leven verspild" zei hij zelf meerdere keren.
Hoe moet je in godennaam reageren op "I'm so mean I make medicine sick"?
Float like a butterfly, sting like a bee
Ali's meest beroemde uitspraak is ook meteen een goede manier om zijn interviews met de media te omschrijven. Bekijk bijvoorbeeld eens zijn interview met David Frost. Je moet wel even bedenken dat Frost niet de minste journalist is. Hij is namelijk de journalist die in een interview Nixon zo ver kreeg dat hij hardop zei dat iets niet illegaal was als de President het deed.
Maar Ali danst om Frost heen in het interview. Constant komt hij met nieuwe ideeën en uitzinnige uitspraken. Hoe moet je in godennaam reageren op "I'm so mean I make medicine sick"? Frost kan het simpelweg niet bijhouden. Maar als het er op aan komt, als hij een punt wil maken, is hij precies in zijn woorden. Bijvoorbeeld toen hij zich afvroeg waarom Jezus blank is.
The Greatest of Prime-Time
En Ali hield het niet bij interviews. Hij speelde in een Broadwaymusical en in een biopic over zijn leven. Hij had zelfs zijn eigen cartoon, I am the greatest!, waarin Ali met een alligator worstelt en in de ruimte met aliens vecht. Er is niets wat Ali niet kan doen, of dat is in ieder geval wat hij wil dat iedereen denkt. Maar in z'n eigen woorden: 'it's not bragging if you can back it up'. Dus vergeet Batman v Superman: de film die echt gemaakt moet worden is Superman v Muhammad Ali.
Wat je ook denkt van de ideeën van Muhammad Ali, de man is hoe dan ook een legende. En dat moment dat hij de olympische vlam aanstak, vechtend tegen Parkinson, was pure magie.
Cover: Nationaal archief