[mks_dropcap style="letter" size="48″ bg_color="#ffffff" txt_color="#000000″]E[/mks_dropcap]en tegenwoordig veelvoorkomend beeld: massa's mensen vastgekluisterd aan het magische apparaat de smartphone. Het gebruik van de smartphone is de laatste jaren sterk toegenomen en zelfs als we het zouden willen, kunnen we niet meer zonder. Deze toename is alleen niet zonder gevolgen. Het mateloos checken begint namelijk dwangmatige vormen aan te nemen. Veel mensen ervaren stress als het apparaat even niet in de buurt is. Wat maakt de smartphone zo'n krachtig middel? Volgens Wouter van Noort, technologie- en economiejournalist voor het NRC, ligt de oorzaak in Silicon Valley. We worden bewúst afhankelijk gemaakt door grote technologiebedrijven.
Wouter van Noort deed onderzoek naar de reden achter ons obsessieve smartphonegedrag. Hij bezocht hiervoor verschillende technologiebedrijven in Silicon Valley. De resultaten van zijn onderzoek liegen er niet om. Zonder dat we het doorhebben, worden we intentioneel afhankelijk gemaakt van smartphones en sociale media platforms. Er zit een hele psychologie achter de strategieën die door deze technologiebedrijven worden gebruikt. De mechanismen in de apps spelen precies in op onze behoeften. Het is dus echt niet toevallig dat wij allemaal zo verknocht zijn aan de smartphone.
Hoe bedrijven ons verslaafd maken
Bedrijven maken ons afhankelijk door bewust gebruik te maken van trucs vanuit de psychologie. Het doel hiervan is om bij mensen gewoontevorming te creëren. Dit doen zij door slim in te spelen op beloningen. Van dopamine worden we blij en zonder dat je het doorhebt, wil je dat prettige gevoel steeds weer ervaren.
Bedrijven maken ons bijvoorbeeld verslaafd door in te spelen op onze kwetsbaarheid
Bedrijven maken ons bijvoorbeeld verslaafd door in te spelen op onze kwetsbaarheid. Wij zijn bijvoorbeeld kwetsbaar als we een nieuwe profielfoto aanmaken en dat weet Facebook haarfijn. We willen namelijk allemaal zo veel mogelijk likes om bevestiging te krijgen. Om deze reden zorgt het algoritme van Facebook dat die foto hoog in de tijdlijn van je vrienden komt te staan. Hierdoor krijg je veel likes en maakt je lichaam weer een shotje dopamine aan. De blauwe vinkjes bij WhatsApp hebben eveneens een functie. Deze creëren een sociale druk, waardoor we sneller gaan reageren. Tevens worden subtiele mechanismen gebruikt die ook in gokkasten te vinden zijn. Sociale media gebruiken precies dezelfde mechanismen. We weten dat we likes of reacties zullen krijgen, maar we weten niet wanneer. Daarom verversen we de pagina steeds weer.
Gevolgen
Het overmatige gebruik van de smartphone is niet zonder gevolgen: we worden massaal verslaafd. Deze verslavingen leiden tot stress, omdat bij veel mensen werk en privé voortdurend in elkaar overlopen. Daarnaast zorgt het veelvoudig gebruik voor concentratieproblemen, die zich uiten in een korte spanningsboog. Het ergste is dat mensen na veel gebruik van de smartphone minder empathie gaan tonen.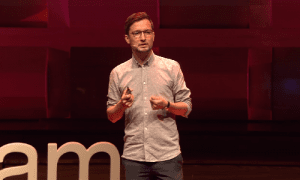 Wat kunnen wij doen?
Volgens Wouter kunnen wij onszelf wapenen tegen de invloed van de psychologische trucs. Zo heeft hij zelf een app Moment geïnstalleerd die bijhoudt hoeveel tijd hij per dag aan zijn smartphone besteedt. Tevens zijn er ook andere mogelijkheden om de drang naar de smartphone te minderen. Denk aan het uitschakelen van pushberichten en het uitzetten van blauwe vinkjes in WhatsApp. Tot slot kan het scherm ook op zwart-wit worden gezet. Dit maakt de kleur van het scherm saai en de rode ballonnetjes worden minder opvallend.
Bedrijven krijgen het voor elkaar om letterlijk in alle openheid te delen hoe je het beste mensen verslaafd kunt maken zonder dat daar ophef over bestaat
Ons belang of het belang van technologiebedrijven?
Het is duidelijk dat technologiebedrijven die achter onze smartphones en apps zitten vooral bezig zijn met hun eigen belangen. Het gaat er niet om wat wij nodig hebben, maar wat zij van ons nodig hebben. En dat is aandacht. Opvallend is dat ze er ook nog eens heel eerlijk over zijn! Bedrijven zoals Twitter, Facebook, LinkedIn, Snapchat, en Slack komen jaarlijks bij elkaar tijdens een conferentie: de Habit Summit. Op deze conferentie worden nieuwe methodes en trucs met elkaar uitgewisseld. De deelnemende bedrijven krijgen het dus voor elkaar om letterlijk in alle openheid te delen hoe je het beste mensen verslaafd kunt maken zonder dat daar ophef over bestaat. Volgens van Noort wordt het tijd dat er eens stil wordt gestaan bij het feit onze tijd ronduit wordt verpest. Wat vind jij? Valt dit allemaal nog te verantwoorden?
Cover: Wouter van Noort / Eindredactie: Iris Ausems