Instagram staat vol met fitness gerelateerde content. Foto's en video's van mensen die thuis of buiten aan het trainen zijn of poseren in sportkleding. Deze content wordt fitspiration genoemd, een samenstelling van de woorden 'fitness' en 'inspiration', en is bedoeld om andere mensen te motiveren om te gaan sporten en een gezondere levensstijl te gaan volgen. Momenteel heeft de hastag #fitspiration meer dan 49 miljoen posts op Instagram en groeit elke dag. Maar werkt dit eigenlijk wel? Gaan mensen echt sporten door het zien van fitspiration op Instagram of heeft het hele andere gevolgen?
Wat Weten We Al Over Fitspiration?
Influencers op Instagram posten fitspiration afbeeldingen of foto's met de intentie om andere mensen te inspireren en motiveren om te gaan sporten en een gezondere levensstijl te gaan volgen.
In 2020 had #fitspiration meer dan 65 miljoen posts op Instagram en heeft Instagram meer dan 400 miljoen actieve gebruikers per dag.
Veel studies naar fitspiration richten zich op het effect van fitspiration op zelfbeeld, lichaamsbeeld en de gemoedstoestand en hebben vooral negatieve gevolgen aangetoond.
Wat Weten We Nog Niet Over Fitspiration?
Fitspiration op Instagram is nog betrekkelijk nieuw aangezien Instagram pas sinds kort zeer groot is geworden. Daarom is er nog weinig onderzoek naar gedaan.
Ook is er nog weinig onderzoek gedaan naar de daadwerkelijke effecten van fitspiration op Instagram. Veel onderzoek richt zich voornamelijk op Facebook, omdat dit al langer bestaat.
Wat is Onderzocht?
In dit onderzoek heb ik onderzocht wat het effect is van Fitspiration posts op Instagram op de sportintentie van jongvolwassenen in Nederland. De hoeveelheid tijd die iemand per dag op Instagram besteed werd hierin meegewogen. Het onderzoek bestond uit een online experiment met een vragenlijst. Daartoe hebben 155 jongvolwassen Nederlanders, die Instagram gebruiken, meegedaan aan het onderzoek, waarvan 41 mannen en 114 vrouwen. Vooraf gaven de participanten aan hoeveel zij op dat moment per week sporten. Vervolgens kregen de participanten wel of niet 6 fitspiration posts te zien. Participanten noteerden waar de foto was gemaakt, wat ze van de kwaliteit van de foto vonden en of de influencer hun bekend was. Na het zien van de foto's werd de sportintentie en de hoeveelheid Instagramgebruik gemeten.
Wat Bleek?
De participanten deden al gemiddeld 2 tot 3 keer per week aan sport doen.
52,9% van de participanten viel onder weinig Instagramgebruik van 10 tot 60 minuten per dag en 47,1% van de participanten viel onder veel Instagramgebruik van 1 tot 2 uur en meer per dag.
De sportintentie van de participanten was hoog ongeacht of zij wel of geen fitspiration posts hadden gezien.
Uit het onderzoek bleek dat er geen significant effect werd gevonden tussen het zien van fitspiration posts op Instagram en de sportintentie van mensen.
Ook bleek dat het effect van het zien van fitspiration op de sportintentie niet significant verschilt voor mensen die veel of weinig Instagram gebruiken.
Wat Betekent Dit?
Het onderzoek heeft geen effecten kunnen aantonen van fitspiration posts op de sportintentie van mensen. Ook bleek het niet uit te maken hoeveel tijd iemand dagelijks op Instagram besteed. De gemiddelde sportintentie van de participanten blijkt hoog te zijn, maar dit komt niet door het zien van de fitspiration posts. Waarschijnlijk zijn de mensen al sportief van zichzelf of spelen andere factoren een rol. Aangezien er geen effecten gevonden zijn kan niet worden bepaald wat het daadwerkelijke effect van fitspiration op de sportintentie is. Er kan dus ook niet worden vastgesteld of het goed of slecht is.
Maar?
Werken de fitspiration posts dan wel echt, gaan mensen sporten door het zien van deze posts? Uit dit onderzoek blijkt dat fitspiration posts geen invloed hebben op de sportintentie van mensen. In de toekomst zal nog meer onderzoek naar fitspiration moeten worden gedaan, om erachter te komen wat de daadwerkelijke effecten zijn. Voor nu kan het geen kwaad om rustig langs wat topmodellen op Instagram te scrollen!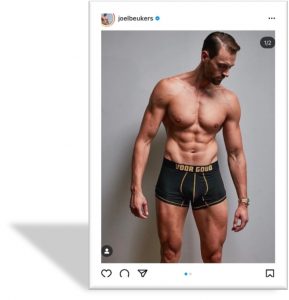 Wil je een interessante video zien over echte sportinspiratie en fitspiration?
Wil je meer lezen over dit onderwerp? Het blog is gebaseerd op de volgende publicaties:
Tiggemann, M., Anderberg, I., & Brown, Z. (2020). #Loveyourbody: The effect of body positive Instagram captions on women's body image. Body Image, 33, 129–136. https://doi.org/10.1016/j.bodyim.2020.02.015
Peng, C.-T., Wu, T.-Y., Chen, Y., & Atkin, D. J. (2019). Comparing and modeling via social media: The social influences of fitspiration on male Instagram users' work out intention. Computers in Human Behavior, 99, 156–167. https://doi.org/10.1016/j.chb.2019.05.011
Fatt, S. J., Fardouly, J., & Rapee, R. M. (2019). #malefitspo: Links between viewing fitspiration posts, muscular-ideal internalisation, appearance comparisons, body satisfaction, and exercise motivation in men. New Media & Society, 21(6), 1311–1325. https://doi.org/10.1177/1461444818821064
Nagtzaam, M. (2021). #Fitspo & InstaSport: Een onderzoek naar het effect van het zien van Fitspiration posts op Instagram en de intentie om te gaan sporten onder jongvolwassenen in Nederland. Bachelor Thesis Entertainmentcommunicatie, Universiteit van Amsterdam
This blog is published in collaboration with the SWOCC Foundation. SWOCC is a foundation in scientific research on brands and brand communication and makes scientific research findings accessible for practitioners. Twice a year, they organize a blog contest that encourages bachelor students in the field of communication science to elaborate on their theses to make their academic work more accessible and reachable for practitioners in the marketing and communication field.
Cover: Carl Barcelo on Unsplash