Life used to be smooth for Shivani Bhadarwaj. Born and raised in India, Shivani had a strong interest in journalism and medicine. She decided to pursue a career that would take her to the headquarters of National Geographic, the world's conservation powerhouse. But bleak news followed. Having been diagnosed with rheumatoid arthritis – a chronic inflammatory disorder that attacks the joints – she had to abandon her plans. After 17 years of having serious difficulties walking, she went through a painful knee transplant. This changed everything for her. 
She thought to herself: 'what can I do now?' Art seemed like the way forward. After going through the process of self-teaching, she became an artist, participating in various workshops, camps, and exhibitions throughout India. But something was missing. She started thinking about ways to help people. Her empathetic instinct pushed her to strive for more and to give back to society despite her own afflictions. That's when she decided to join Inside Me. 
What's Inside Me?
Inside Me is an initiative that aims to help blind children visualize the world around them and motivate them to draw what they have never seen before. Driven by the overwhelming fact that more than 30% of the blind worldwide are Indian, the organization has sought to help them through creative expression, being able to communicate and form part of the visual world through their other senses. 
Inside Me's ultimate goal is to incorporate drawing as a subject for students of visual impairment in India, starting with New Delhi's 19 schools that serve the blind. This will not only help exploit the children's creative potential but open up professional opportunities for them in the form of paid volunteers and teachers. 
Shivani perceives her job is to guide the children: "we use drawing as a medium and crayons as a tool." She feels happy, she says, when she sees a child "holding a crayon for the first time, [driven by the] curiosity to draw whatever strikes their ears. It may be the Yamuna River, a school van, a cricket, a camera, or pollution." 
Her initiative is innovative in addressing the inclusion of the blind in society.  By participating in different art festivals and fairs, she states, "we exhibit their works and sell them. Inside Me has future plans for their employment. By helping them get funding, they can establish separate art platforms, where they can create and sell their works."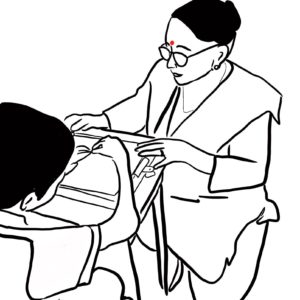 The Importance of Art 
Both creatively and professionally, Shivani aims to create opportunities for the children through Inside Me. When I ask her about the importance of art in her life, she responds beautifully, reminding me of Frida Kahlo's journey: "There was a phase when I was talking to four walls. I was in tremendous pain. But I sailed through. My body could not move but my mind could travel everywhere". Her brush and colors took her where she wanted to go. Art "has calmed me and defined me", she says.
"Expression has power to ease your within turmoil, and art gives this gateway." 
As a response to my question about her mission, she asks another: "If art is essential in our society, then why are we blind towards visually impaired children?" 
Her reflection stems from the concern that these children have all subjects in their school, except drawing. How could they learn the earth, sun and moon are round if they don't have a notion of what round is, or how to Gemlik escort draw it? This leads her to firmly believe that visual arts improve academic performance, helping them go through the standardized tests. By making an effort to include them in society, the limitations placed on their education can begin to blur, she comments.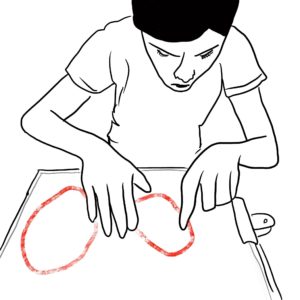 The Children 
Arman, a young boy, grabs a blank page and draws two eyes. On the side, he draws the body of a little bird. "This is very touching", Shivani adds, "he has no idea about perspective, but has the idea that a bird has two eyes." For me, it's even metaphoric. Sometimes sight can be separated from the physical body. 
"Coming into contact with art, Inside Me's children draw in their own style, freely."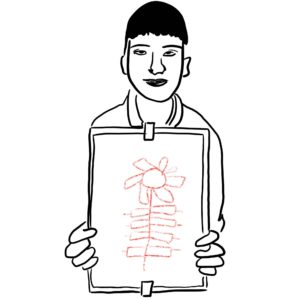 Bhagwati, a fifteen-year-old girl from Sadiq Nagar Blind School, has troubles recognizing a circle, even though she has been taught geometry. Another twenty-three-year-old boy from the Amar Colony, Shankar, cannot recognize the concept of what 'rectangular' means. 
"This is the real problem", Shivani reflects. Schools that don't make efforts to make them Görükle escort perceive the visual through their other senses are leaving them out: "a major impediment to the intellectual development of the blind derives from prejudice within society and the limitations we sometimes have placed on their education." 
Development starts from the root: forming motivated and strong individuals, despite the impairments they may have, is the source of all progress. Art has always had a redeeming power. Through Inside Me, children can harvest that power from within and use it as an essential force to propel them forward. 
With a warm heart, she speaks about the potential Gürsu escort this has on her own will to keep going: "their happiness, love, and dedication are my strength". 
Cover: Isabella Ibañez – Joy; Shivani with her 'naughty students'.