Over de afgelopen maanden heb ik op BBC News en op Twitter mogen 'genieten' van het #brexit-debat. Maandenlang is er gedreigd, geschreeuwd en geruzied aan beide kanten van de strijd. Nu blijkt dat het leave-kamp heeft gewonnen, is het tijd om te kijken waarom. Met welke argumenten hebben de eurosceptici de Britse stemmers overgehaald? Een deprimerende tocht door het internet:
https://twitter.com/_hanimustafa/status/746189700558266368
Leave of remain propaganda
Wat meteen opvalt is dat het woord propaganda aan beide kanten eindeloos valt. Zo werd het remain-kamp beschuldigd van neerbuigende propaganda.
https://twitter.com/Leafeh_/status/739934074383544320
Je politieke tegenstanders beschuldigen van leugens is natuurlijk niets nieuws, maar de felheid van beide kanten suggereert iets ergers. Vijftig procent van Groot-Britannië gelooft nu, wat de uitkomst van het referendum ook was geworden, dat de andere kant ofwel heeft gelogen, ofwel in leugens is getrapt.
Immigratie, immigratie, immigratie
Die felheid blijkt vooral uit de campagne die de United Kingdom Independence Party (UKIP) voerde. UKIP is de enige politieke partij die in z'n geheel voor een brexit-campagne voerde. UKIP-leider Nigel Farage werd vooral bekend toen hij Herman van Rompuy volledig afzeek in het Europees Parlement. Je kunt deze partij vergelijken met de PVV in Nederland, met name omdat immigratie hun belangrijkste standpunt is.
Dat leverde bovenstaande poster op. De suggestie is duidelijk. Al die vluchtelingen willen natuurlijk naar Groot-Britannië en de EU doet niets! The utter twats. Als je denkt 'maar niemand gelooft dat toch?', is er altijd nog deze tweet.
https://twitter.com/Juliet777777/status/745340180026929152
Maar niet alleen vluchtelingen en migranten van buiten Europa waren onderdeel van de campagne. In Nederland hebben we ook het Polenmeldpunt gehad. In Groot-Britannië heersen dezelfde frustraties jegens bijvoorbeeld Poolse en Roemeense immigranten. Deze frustraties werden gretig gebruikt door de leave-campagne. Zo werd er vlak voor de stemming deze brochure door de brievenbus gegooid.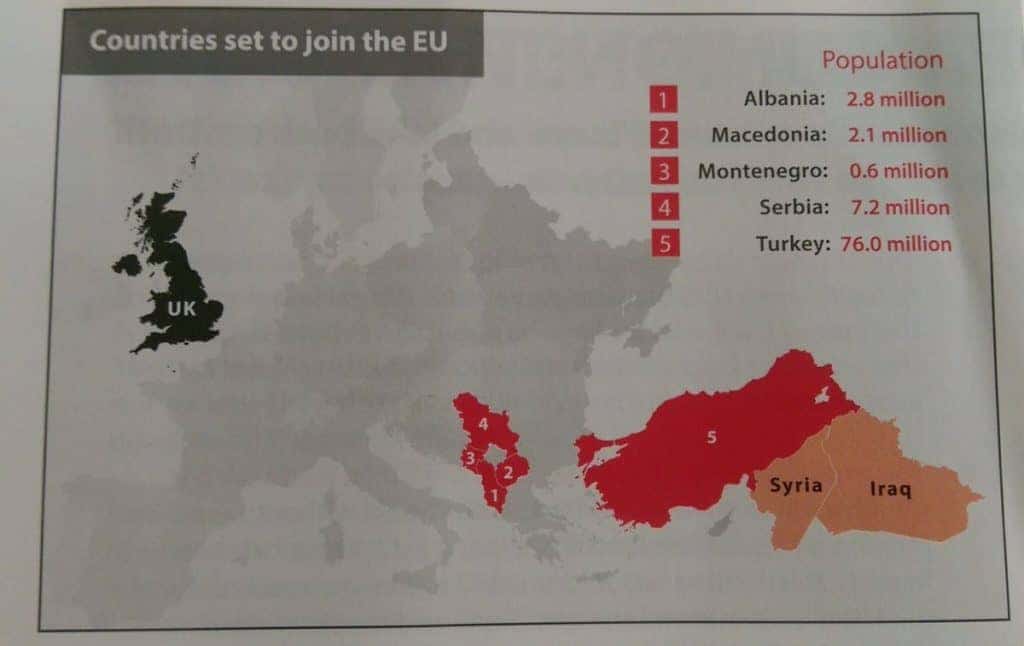 Wordt hier expres de suggestie gewekt dat Syrië en Irak ooit ook bij de EU komen? Wordt hier opzettelijk genegeerd dat EU-leiders meer dan eens gezegd hebben dat Turkije nogal kleine kansen heeft op EU-lidmaatschap? En waarom worden de inwonersaantallen genoemd? Wil men hier suggereren dat al deze mensen banen komen inpikken en uitkeringen komen innen?
Economische Branxiety
Het ging natuurlijk niet alleen maar over immigratie. Aangezien de EU vooral een economische unie is, werd er ook veel over de economie gerept. Het grootste argument van het leave-kamp was economisch en stond op hun tourbus.
Het idee is simpel en krachtig: Groot-Brittannië geeft geld aan de EU en dat kan beter aan gezondheidszorg worden uitgegeven. Het genoemde bedrag, ongeveer 433 miljoen euro, is alleen totale onzin. Het leave-kamp geeft dat nu ook toe, de ochtend nadat mensen hebben gestemd.
WATCH: @Nigel_Farage tells @susannareid100 it was a 'mistake' for Leave to claim there'd be £350M a week for NHShttps://t.co/JNkl5k8IlK

— Good Morning Britain (@GMB) June 24, 2016
De kranten deden mee
Maar misschien is het meest opvallende aan de hele campagne dat kranten volop meededen. Journalisten, die vaak een vorm van objectiviteit hoog proberen te houden, schreeuwden van de daken hoe slecht de EU is. Dit was bijvoorbeeld de voorpagina van The Sun vlak voor het referendum: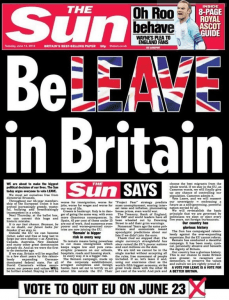 En dit was de voorpagina van eergisteren van de Daily Mail: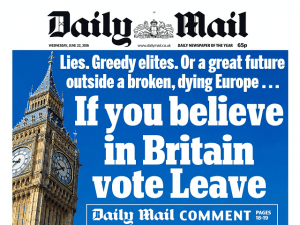 Het zijn niet alleen de tabloids. Een onderzoek van het Reuters instituut voor Journalistiek, de communicatiewetenschapafdeling van de Universiteit van Oxford, heeft bewezen dat bijna de helft van alle artikelen (46 procent) duidelijk vóór een brexit was. Nog eens 27 procent van de artikelen was expliciet voor een 'bremain'. Dat zo'n groot percentage van de artikelen een kant kiest, welke kant dan ook, is an sich al een slecht teken voor de kwaliteit van het debat. Wie stelt er nog moeilijke vragen aan beide kanten van het debat als de media zo duidelijk een eigen mening hebben en deze willen verdedigen?
Wat nu?
De gevolgen van deze campagne zijn moeilijk te overzien. Het is duidelijk dat de Europese Unie moeilijk uit te leggen valt en dat dit populisme in de hand werkt. Hopelijk zorgt dit er wel voor dat politici wakker geschud zijn. Echt gerustgesteld ben ik nog niet.
Brexit leert mij: Europa is voor mensen niet vanzelfsprekend. Ideaal voorzien van nieuwe energie. Op naar #TK2017.

— Alexander Pechtold (@APechtold) June 24, 2016
No shit sherlock.
Cover: Ravian Ruijs