In my book, eating doesn't solely stand for its dictionary meaning. No matter what you eat, it is a sacred ritual that doesn't only require the right dish but also the right ambiance, right service and finally, the right company (even if you go alone!).
Never have I felt at more ease and harmony in the companion of beautiful strangers that had the same intentions as me when coming to this very special eatery; enjoying each and every second of life in a cozy, laidback but still very unique atmosphere, with the delicious smell of fresh bakeries filling the air while engaging in a book, laptop or conversation. And last but definitely not least; enjoying quality food…
It is more than just a bakery, though it looks like one and that is the biggest trick into thresholding the customer. Now I am not saying that you are not welcome here, what I am saying is that this heavenly place is far from one of those average bakeries you would pass by in the slightly more popular districts of Amsterdam, packed with your average tourist John's and Jane's munching on sad and dry waffles with factorized sugar icing.
Ambiance & service
I have already mentioned how cozy it is despite being relatively large and capable of hosting many guests, but you might not be able to understand it without seeing it with your own eyes. The laidback and warm atmosphere must have affected the employees as well…or maybe it is just the other way around. Transparency is not only a kitchen policy here, so are the servers who are genuinely friendly and want to make sure you are having a good time enjoying your orders. There is no room for any artificialness here, everything is as soft as the interior of a crispy baguette.
What can you find here… or should I say can't?
Not being your average bakery better not give you the impression that they do not produce a wide selection of delicious bread and other baked goods. There is literally everything an oven can prepare for you in this magical kingdom of flames and flour. And yes, that includes PIZZA! As well as the Vegan options and more classic ones, there are many interesting combinations that go against the norms as "Spicy Pumpkin" and "Tonno" which are highly demanded to my surprise. They come in a rectangle shape rather than a circle, always served on top of a wooden board that adds up to the authentic and genuine feeling. It is different than an Italian style pizza with a more "home-made" feeling and taste attached to it. Of course you are also very welcome to enjoy their fresh soups, salads, sandwiches and toasts but make space for some divine ending.
The sweet escape
No shame, I have a sweet tooth and a lot of love for this place. This eventually led into me having tried each and every dessert offered here. Sounds freaky? You are about to faint? But make sure you take a fork of the award-winning, rich Brownie of Bakhuys, or the soft carrot cake with vanilla icing or any of the creamy cheesecakes that you could only find an equivalent in The Cheesecake Factory, USA. Also, let's not forget those pies…have I mentioned the muffins? I believe I made how incredible they are when it comes to the sweet options pretty clear, haven't I? I just can't get enough talking about it…

Of course this sweetness is best assorted by the rich texture and pleasant bitterness of a good coffee. In Bakhuys, they use the beans of BOCCA roasters; one of the bests without a doubt. The list of hot beverages is pretty diverse, ranging from a strong Flat White to a spicy Chai Latte.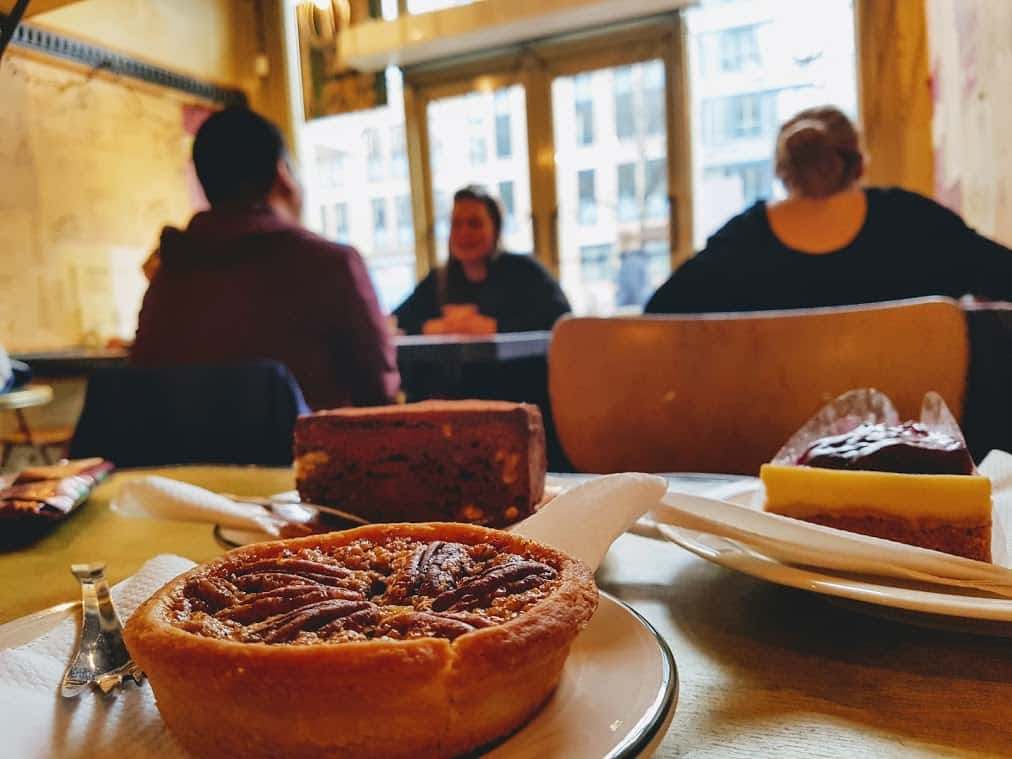 Great place for students
It is located just behind the Weesperplein tram stop, so if you can do the math, you know it is only in walking distance from the Roeterseiland Campus. Go get a takeaway coffee and a muffin while waiting for your tram or just have a study session on your own or in one of the larger desks with your entire group. There are plugs almost in everywhere which is extremely convenient if you are working on a laptop. The prices are decent compared to many other places that does not even have as great products or atmosphere to offer. You pay while making your order which might sound annoying at first but think about not being constantly abused by a waiter or waitress that keeps coming back to get you to order something more.
To roll it out, this is my all-time favorite, safe and sound, cozy and sweet spot of deliciousness and pure good. This is my second home, and now you are also welcome, as you will not only be enjoying your own but my company and reference as well enjoying a slice of Spicy Pumpkin, a fork of nutty pecan pie or a sip from the foamy cappuccino.
Cover: Idil Gnosti / Final editor: Kyle Hassing