Hoera, scriptietijd! Dit betekent dat je Facebook niet meer kunt openen zonder minstens één bericht op je timeline voorbij te zien komen waarin praktisch wordt gesmeekt of je 'alsjeblieft' die survey invult. Nog irritanter is het wanneer je een persoonlijk bericht ontvangt. De afzender is natuurlijk niet echt geïnteresseerd in jouw welzijn. Deze geveinsde interesse dient slechts één doel: een beetje sociale lijm om het werkelijke verzoek te legitimeren. Sommige studenten pakken het vernuftiger aan en gooien persuasieve tactieken in de strijd om genoeg respondenten te verzamelen. Hoog tijd om de overtuigingsstrategieën achter de kunst van het respondenten verzamelen eens onder de loep te nemen.
De foot-in-the-mouth-tactiek: "hey, hoe gaat het er mee?"
Is het je ooit opgevallen dat collecteurs voor het goede doel, vrijwel altijd vragen hoe het met je gaat? Dit doen ze niet omdat ze daadwerkelijk geïnteresseerd zijn in je dag, dit doen ze om je in de val te lokken. Wanneer jij zegt dat het goed met je gaat, verplicht je jezelf als het ware om te handelen naar je stemming. Onderzoek naar deze vorm van persuasieve overtuiging, heeft uitgewezen dat dit heel goed werkt wanneer het gaat om een goed doel. Aangezien je als afstuderende student niet onderdoet voor een zielige panda, is deze tactiek zeer geschikt voor het verzamelen van respondenten. Deze vorm van overtuigen wordt vrijwel altijd toegepast in de vorm van directe communicatie. Mocht je in de toekomst geen zin hebben om een survey in te vullen, dan is het wellicht verstandig om op de vraag "hoe gaat het er mee?" te reageren met "het gaat helemaal kut, dankjewel".
Pregiving: I'll scratch your back if you'll scratch mine
Wellicht de meest populaire vorm van respondenten verzamelen onder studenten. Als jij de survey van Pietje hebt ingevuld, dan moet Pietje jouw survey ook wel invullen, toch? Deze persuasieve overtuigingsvorm is volledig gebaseerd op de assumptie: wie goed doet, goed ontmoet. Studenten opgepast! Onderzoek heeft uitgewezen dat deze tactiek niet altijd werkt. Wanneer je goede gedrag wordt ervaren als omkoping, werkt deze vorm van overtuiging niet. Het 'pregiving' moet dan ook als onbaatzuchtig ervaren worden, niet als middel tot zelfverrijking.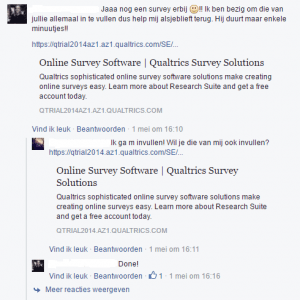 That's not all: win een bol.com-cadeaukaart!
Weet je nog? Die zalige tijd van vóór je scriptie. Toen je nog tijd had om ongegeneerd Tell Sell te kijken. Het is dan ook niet gek dat veel studenten deze tactiek toepassen. Laten we eerlijk wezen: die Nicer Dicer had je heus niet gekocht als je de keramische kookpan er niet helemaal gratis bij had gekregen. Hetzelfde geldt voor respondenten verzamelen. Want wie wil dat nu niet? Een survey invullen en ook nog eens kans maken op een cadeaukaart. Een cadeaukaart van bol.com is dan ook een veelgebruikt lokmiddel. Of de cadeaukaart echt wordt verloot, mag Joost weten.
Legitimizing paltry contributions: alle kleine beetjes helpen
Wanneer je op straat wordt aangesproken door een mooi boy of girl van Pepperminds, is de kans groot dat je go-to antwoord is, "ik ben student, daar heb ik geen geld voor". Waarop hij of zij antwoordt, "alle kleine beetjes helpen". Dit principe gaat ook op voor het verzamelen van respondenten: iedereen is welkom. Je oma, je kat, de cavia van de buren, heb je maar één arm? Geen probleem! Vul maar gewoon in die survey!

Emotional en rational appeals: met een lach en een traan
Reclamemakers beroepen zich bij het ontwerpen van advertenties op verschillende appeals. Grofweg zijn deze appeals in te delen in twee groepen: emotionele appeals en rationele appeals. Bij het gebruik van emotionele appeals gaat het om het oproepen van emotie terwijl het bij rationele appeals vooral gaat om het verschaffen van informatie. Bij het verzamelen van respondenten lijkt vooral het gebruik van emotionele appeals populair. De absolute winnaar voor het winnen van zieltjes lijkt het gebruik van humor. Mensen houden nu eenmaal van een grapje, hebben ze toch nog even gelachen voordat ze doodgaan van verveling tijdens het invullen van je oersaaie enquête. Hiernaast lijkt de dierengekte die momenteel het web domineert zich voort te zetten bij het ronselen van respondenten. Wie smelt er nu niet weg bij het zien van een schattig hondje of biggetje?
Wil je meer of minder respondenten?
Welke tactiek je ook in de strijd gooit tijdens het verzamelen van respondenten, het lijkt steevast te leiden tot één ding: irritatie. Het beste advies is dan ook: gooi alle tactieken in de strijd en slijm, lik, rol en stalk tot je erbij neervalt. De kans is hoe dan ook groot dat de enige manier om aan je respondentenquotum te komen, is door het invullen van honderd andere surveys van je scriptie-lotgenoten. En dat het dan vrijwel alleen maar studenten zijn die je survey hebben ingevuld? Tja, daar kun je dan mooi in de discussie het een en ander over zeggen. Houd hoe dan ook hoop, het einde is in zicht! Binnenkort kun je eindelijk weer met een gerust hart je Facebook Messenger openen, zonder door honderd scriptieberichtjes te moeten scrollen. Tot die tijd? Geniet van de aandacht! Zo populair ben je van je leven niet geweest.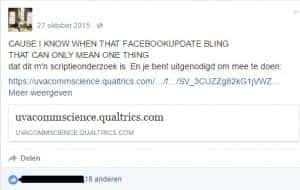 Cover: Rusty Clark