Even if politicians are not polemic enough, different media have been keener in portraying them more personally. With the address of their private lives, the international media landscape is currently experiencing a shift in how politicians are presented to audiences, where, either intended or not, some attention is fervently attracted to their human-like traits and personal interests. As personalization gains some prominence in media narratives, it becomes imperative to understand why politicians may now be covered in the different media as more 'human', and with some scepticism, what implications this may have on our perceptions of them.
Politicians are humans, where lies the difference after all?
In October 2020, news media companies like BBC, CNN and Vox published news stories on Alexandria Ocasio-Cortez playing 'Among Us' during the campaign for the U.S. Presidential elections. After results were obtained, magazines like Vogue were already talking about new Vice-President Kamala Harris' personal life, the daughter of an Indian immigrant and breast cancer researcher named Shyamala Gopalan who passed away 12 years ago. These are only some cases concerning the U.S. in particular, where politicians are evidently portrayed as individuals with personal background stories, to name a few of them. Hereby, the focus is given to individual political actors, outside their conflict arena and, arguably, meeting their political purposes.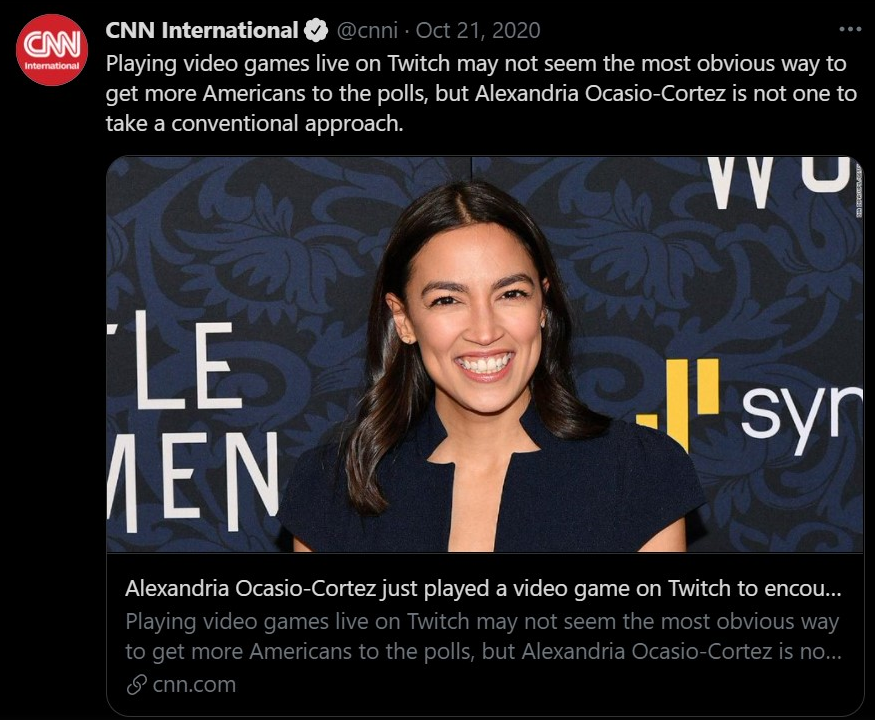 CNN International reporting on Twitter about Alexandria Ocasio-Cortez's Twitch streaming on October 21, 2020
---
As politicians become more human to civilians, personalization tactics make a prominent strike. Just like in the cases of Ocasio-Cortez and Harris, personalization entails highlighting specific favourable traits. To a great extent, both female powerful characters are here represented as buoyant and accessible to regular people with interesting background stories. However, as political parties are narrowed down to 'human' politicians, what is not as self-evident is how the campaigning has not stopped. After all, both Democrat politicians were still campaigning for the Democrats agenda. 
Personalization is gaining appeal in political communication – it aims attention at individual politicians and not their parties. With the personalization of politicians, the media has now also started framing them just as any regular citizen. Here lies the essence of personalization in politics: to change the focus on non-political characteristics of those who hold political positions. Whether in talk shows, news articles or cover stories for magazines, politicians get the opportunity to be seen as more human – representative figures that viewers can identify with. Yet, as true as it may be that politicians are people after all, this clever depiction ultimately redirects the attention to elements irrelevant to their positions as state workers, and helps them to differentiate from their competitors.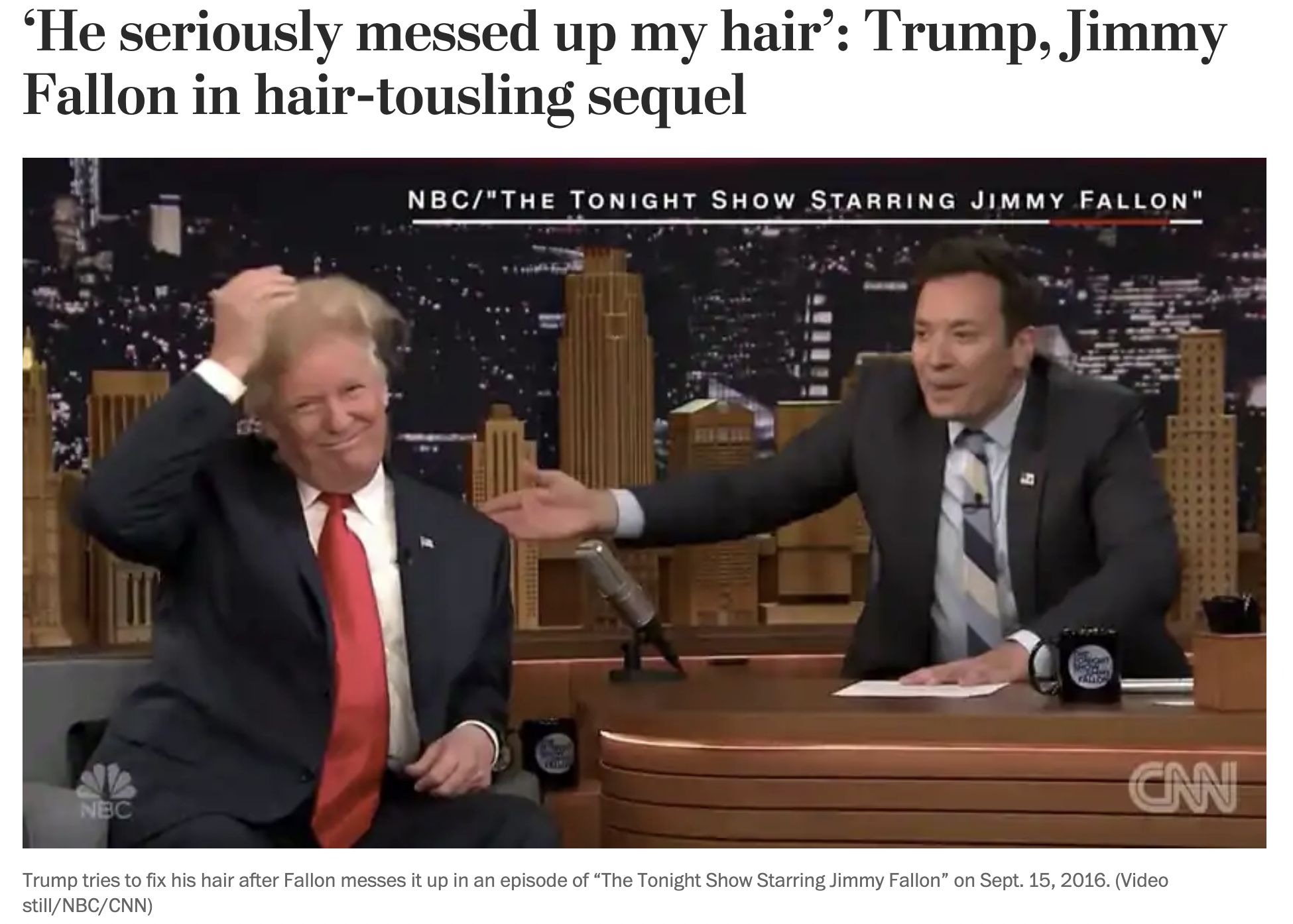 Donald Trump attending Jimmy Fallon's The Tonight Show on September 2016, as mentioned on The Washington Post
---
Personal politicians are, after all, part of a communication strategy
Personalization is inherently strategic. As seen in the case of AOC, she personally decided to present herself as amiable by playing with citizens a popular game to promote voting – streaming her game on a wide platform like Twitch certainly made her visible. Remarkably, Ocasio-Cortez is not the only one adopting this approach when it involves persuading those unaware of the long-term impact of their voting. Personalization may ultimately have the potential to become problematic in the long term, mostly if used with self-interest. For those more knowledgeable, this could result in political cynicism. For those with less knowledge, a cue to base their attitude formation and political decision-making. From times, it therefore becomes dubious if personalization aims to show politicians' true nature, or rather serve their self-promotion motives.
Now, campaigning is inherent for all politicians. Without media exposure, politicians arguably cannot obtain votes from individuals to manifest their own political convictions, and within reason. Yet as much as campaigning may be a central activity to winning an electorate, giving space to open discussion about more superficial aspects like personal features is not only irrelevant to politics, but ultimately part of a well-thought political communication strategy. 
Historically, the news media has been known for holding a crucial role as politicians' watchdog. This is a function that persists, but has arguably changed over time with influences like personalization. Academics keep finding mixed information about the extent to which personalization is present in Western democracies. Nonetheless, the main concern about integrating a personal approach to depicting politicians lies in the word itself: it may help the politician's personal purposes. Not only can this form of content be regarded as lower in quality due to its reduced impartiality, but in essence, it does not concern directly the practices of politicians that do have repercussions on civilians – the ones who will be affected by any decision-making in the public sphere. 
To be or not to be personal?
Certainly, politicians cannot be inherently separated from their human features. Nonetheless, it is important to open dialogue as to how relevant personalization may be when discussing politics, with less evident but strategic purposes for politicians and media's commercial purposes. Independent of one's individual preferences, it is important to remember that it is our same perceptions about politicians which will determine more complex political behaviour. This can range from favourable responsiveness, as seen in mechanisms like public opinion, to even tangible actions like voting with more severe repercussions. We must remember: personalization ultimately benefits larger political parties with particular agendas.
Whether we evaluate politicians favourably or not, citizens must learn to identify whether there is a persuasive attempt of a communication strategy like personalization on their political attitudes. Positive impressions about politicians have certainly various desirable effects for politicians in any democracy. Hereby lies the importance of informing oneself with other concrete facts and policies, which are not perceived in these narratives as self-evident. In the meantime, some questions will still remain controversial – should news media companies address the private lives of politicians in their news coverage at all? As this issue remains under debate, the media must seek to preserve its objective and impartial role.
Cover: Geralt on Pixabay
Note: This is an older article being republished due to technical issues.